CANTILEVER HYDRAULIC LIFT MODELS
Hydraulic is the fastest way to get your boat up and out of the water. Our lifts offer a patented single cylinder and over center lock out design. The single cylinder reduces the number of connections and works better than two cylinders.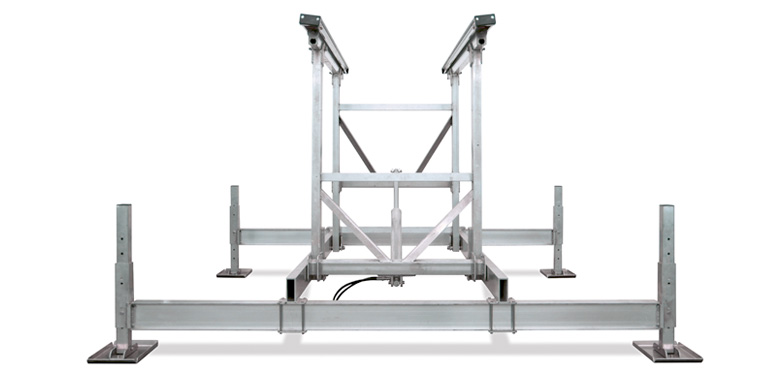 The over center lock out allows the lift cradle to rock just over center when the lift is in the fully raised position and is level. This keeps the lift in the up position without the stress of the boat's weight on the hydraulic system.
CANTILEVER HYDRAULIC LIFT MODELS
| Model | Capacity | Width | Weight | Travel | Leveling Legs | Bunks |
| --- | --- | --- | --- | --- | --- | --- |
| H40108 | 4000 lb | 108″ | 565 lbs | 43″ | 24″ Standard | 120″ |
| MH-H40120 | 4000 lb | 120″ | 585 lbs | 43″ | 24″ Standard | 120″ |
| MH-H60120 | 6000 lb | 120″ | 645 lbs | 43″ | 24″ Standard | 144″ |
ACCESSORIES FOR CANTILEVER PONTOON LIFTS
| Accessory Type | Description | Fits Lifts |
| --- | --- | --- |
| Standard Canopy | Domed canopy frame with legs and cover | All Lifts |
| High Top Canopy | Domed canopy frame with legs and cover | All Lifts |
© 2015 NuCraft Metal Products